Set of 2 Grey Masters style Lounge Kitchen Dining Chair Retro Garden Outdoor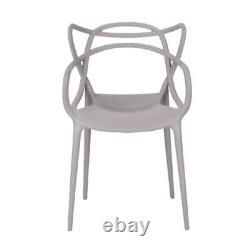 This master inspired chair offers classic and award winning design combined with contemporary feel. It is both roomy and comfortable. It promises to be both elegantly practical and eye-catching.
Great for indoor or outdoor use. Up to 7 of these chairs can be stacked.
Overall: Dimensions H 84cm x W 53cm x D 57cm. Perfect for all interior styles.