Vintage brass pillar taps TALL belfast sink antique faucet retro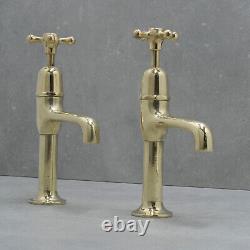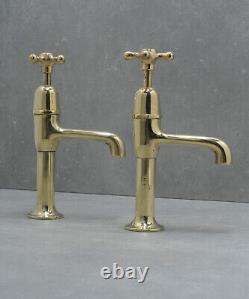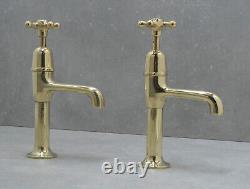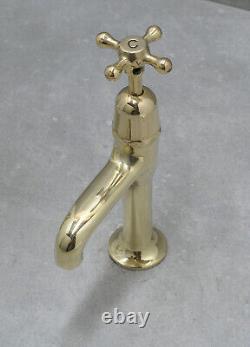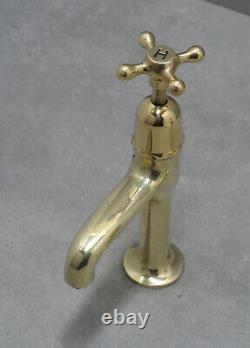 A magnificent pair of vintage brass pillar taps, in excellent working order. Standard 1/2 BSP feed pipe size. Complete with long reach, lathe turned extensions.
Stunning and original stamped brass levers. Approximately 8" tall with a reach of 3.5". Ideal for a belfast sink. Solid brass, gently buffed to yield a gleaming finish. All our taps have had the following work completed. Old finish chemically removed by a licensed and environmentally responsible local firm. Tap seats re-machined to obviate the risk of slow drips, as is common on old taps. New compressed fibre washers have been cut to size by hand using imperial wad punches on a fly press.
Spindles are lathe turned to ensure they meet specific tolerances. Gland nut packing is repacked in the traditional way using graphite string. This stops water leaking from below the handles. Polished, again by hand, using a polishing lathe.
See our other listings for more stunning English taps. We operate a small machine shop and can complete custom machining and modifications. We can also get any tap plated in chrome, nickel or copper. We operate a small engineering workshop and can carry out any modifications required.