Clear Traditional Vintage Style 1000ml (1 litre) Flip Top Airtight Water Bottle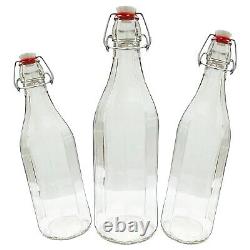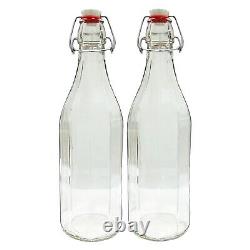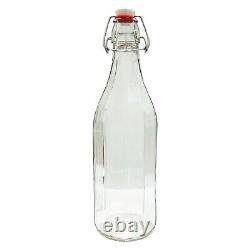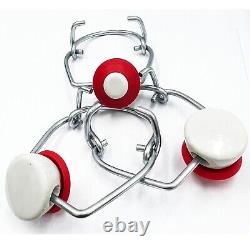 CLEAR FLIP TOP GLASS BOTTLES: Our flip top glass bottles have so many uses and can be used for olive oil, essential oils, vinegars, water, beverages and much more. They are made from strong transparent glass so you can clearly see what's inside the bottle. Perfect for home brewing, soda, cider, kefir, vinegar, oil, vanilla and any other liquid.
All of our bottles are made from quality recycled glass and are food/beverage grade certified. All of our bottles are fully traceable and can be traced right back to their origin. STURDY DESIGN & ELEGANT: These Flip-top bottles are sturdy and elegant, perfect for the home. Each bottle is made from thick and durable glass for optimum resistance to impact and temperature changes.
The resealable cap makes sure the contents inside stay fresh as the day you stored it. Leak proof lid of brewing bottles creates an airtight barrier which keeps the beverages sealed and prevents carbonation and fermentation. CERAMIC SWING TOP - Each bottle comes with a ceramic swing top opener.
The lids are paired with a strong stainless steel closures & pressurised silicone gaskets, which maintain an airtight barrier. The leak proof lid of these brewing bottles keeps them safely sealed & preserves the taste keeping the contents nice and fresh. SIZE & DIMENSIONS: Choose From 1000ml 1 Litre (Height 304mm / Diameter 89.2mm). Simply select the number of bottles required.
Please note that there may be a courier surcharge for deliveries to zones C, D, and E (BT, IV, HS, IM) - see our terms and conditions for more details.