Kilner Clip Top Round Preserving Jars for Airtight Food Storage, Pickles & Jam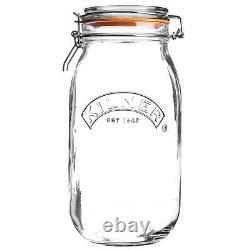 Same or Next Day Dispatch. Kilner Clip Top Round Jars for Preserving, Pickling, Canning, Jam Making and Storage. Perfect for food storage as well as home canning, pickling and jam making these round Kilner preserving jars have the classic clip top closure system with a wire bail and replaceable rubber seal. Available in seven sizes (width x height): 0.125L (8 x 6.5cm).
0.35L (10.5 x 10cm). Rugged glass and rust-free, stainless steel wire.
Designed for home preserving and perfect for storing dry foods. Replacement rubber seals are also available in this listing. Please note that very hot fluids should never be poured into cold glassware. To avoid breakage ensure that your jars are warmed before use. Established in 1842 by John Kilner, and best known for the invention of the innovative Kilner preserving jar system with its iconic vacuum seal lids, Kilner features an extensive range of quality glassware and other goods for home preserving and jam making.
The Last Preserve specialises in products for growing, processing and preserving food at home. Making Jam & Sweet Preserves. Making Sloe Gin & Liqueurs. Juice, Vinegar & Home Brewing. Flour Milling & Bread Making.
Kefir, Yoghurt & Cheese Making.