Kitchen display cabinet narrow sideboard kitchen shelf Bergamo white oak Vicco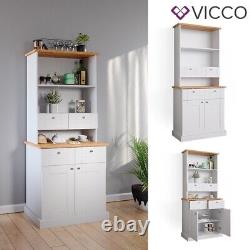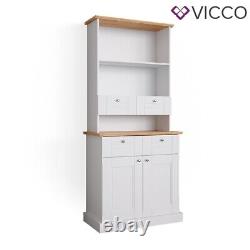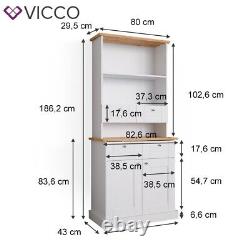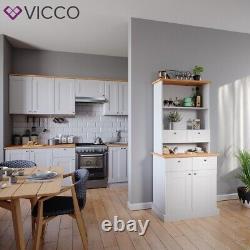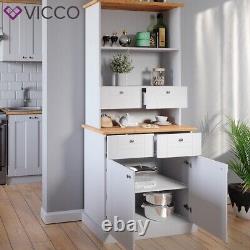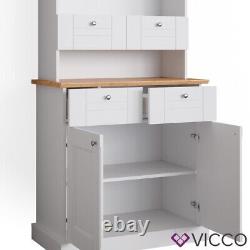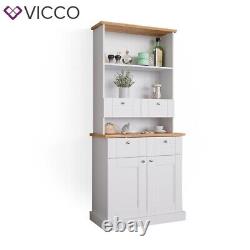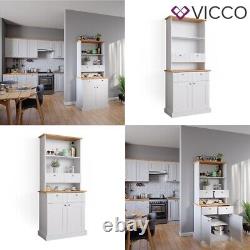 The Bergamo kitchen display cabinet offers a scratch-resistant and easy to clean surface thanks to the melamine resin coating. Robust, easy to clean and with a solid top in oak design - that is our Bergamo furniture series in country house style. The overall dimensions are 82.6 x 186.2 x 43 cm (WxHxD) for the kitchen display cabinet. In addition to the drawers, the shelving unit has large compartments with plenty of storage space. We have been one of Europe's largest online retailers and passionate specialists in the furniture and home décor sector for more than 15 years.
The furniture developed by us in Germany combines high design standards with cost-efficient production and high-quality materials. With more than 130 employees and 6 branches around the world we offer a broad range of product solutions and exceptional furniture ideas with a feel-good factor.
Timeless class in country house style - the lovely bright kitchen display cabinet from the Bergamo series is ideal for the homely furnishing of any dining or living area thanks to the warm colour combination. The top shelf has drawers and a fixed shelf. Here you can decoratively arrange your favourite tableware and display much more. The top shelves in beautiful oak pattern round off this piece of furniture's look perfectly. Colour Body, shelf, interior rear panel: Matt white Top shelf: Oak design Handles: Metal Dimensions Kitchen display cabinet: 82.6 x 186.2 x 43 cm (WxHxD) Weight Kitchen display cabinet: 97 kg Material Body, storage compartment: Chipboard, 16 mm, melamine resin coating Top shelf: Chipboard, 22 mm, melamine resin coating Rear panel: Wood fibreboard, 3 mm Door hinges, handles: Metal. 1 kitchen display cabinet The decoration is not included. Innovative ideas at the best price, this is Oskar Design. Let yourself be inspired by our topsellers!